Birth of ALL Births / Wedding of ALL Weddings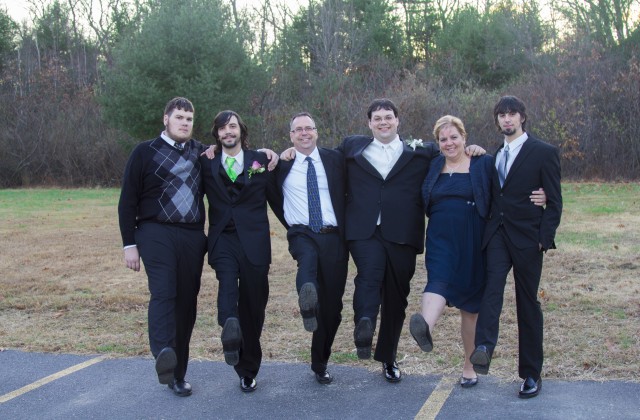 This Christmas as we all contemplate the virgin birth, a recent family event has us drawn to the memory of a miracle birth in our own family, almost twenty-six years ago…
I was then working as a Software Engineer, and the idea of full-time employment in Campus Ministry was not even on our radar screen. Annie was pregnant expecting our first child and we were so excited about becoming parents… We had already decided on the name Jeremiah (if we had a son) and it may sound silly but I actually read the book of Jeremiah out-loud to Annie's womb and the child within. The name Jeremiah means, "exalted by God" and that was our desire from the beginning that God would lift this child up in a special way. We just had no idea how that name would be literally fulfilled five-and-a-half weeks before his due date.
Annie had a very normal pregnancy and everything was going perfectly and according to plan, then one day while she was at work, she began to hemorrhage badly. She was rushed to the hospital by ambulance and I received a call at work telling me that I needed to get to the hospital. I was not told about the bleeding because they didn't want me racing to the hospital and risking an accident. So when I arrived, there was a probe somehow monitoring the baby's heart rate and I was shocked to see so much blood! Every few minutes it would just push itself out soaking towels that were pressed against her. I didn't know what to do. I was completely helpless. I am a person who needs to feel in control and I was so far out of my element and so scared at what was going on around me.  I was holding Annie's hand and asking her what was going on when all of the sudden the heart rate monitor sounded an alarm and the baby's heart rate plummeted. The nurse in the room who was carefully monitoring the situation ran into the hall and literally screamed, "This baby is in distress!" It was like an explosion code blue kind of thing as people were running everywhere frantically. Within seconds Annie was being wheeled down the hall away from me. One nurse picked up surgical scrubs and basically threw them at me from a foot away. I remember them hitting my chest and then catching them in my hands with a bewildered and confused look on my face. The nurse quickly said, "we don't have time to wait for you, put these on and then you can join us in that room" pointing to a special surgical labor room down the hall… and she was gone!
Fumbling, I quickly put them on and sprinted the short distance down the hall. I carefully and slowly pushed open the big wooden door to find Annie on the other side with a tube down her throat, already completely out and under anesthesia. I couldn't believe this was happening! I was so helpless, frightened, and lost, completely lost… there was a stainless-steel stool beside her and they told me that I could sit there as they hurried and prepared for an emergency C-section. I sat on the stool, silently screaming out to God in prayer for help. With one hand I gently held Annie's hand, and with the other I reached into my back-pocket for my New Testament which I always carry with me and just flipped it open catching a random page with my thumb. My seemingly random selection brought me to the Gospel of Matthew in the middle of the beatitudes. As my eyes looked down to focus on some words of possible comfort, they were tunneled to a pericope heading that read, "Do not worry!"
What happened next, I cannot fully or adequately explain… It was as though time itself stopped and I felt something supernatural envelop and wrap around me, feeling a peace and love that again I cannot describe. It would be like trying to explain the most beautiful music that you have ever heard without the ability or instruments to recreate it. All I know is that ALL, and I mean ALL, the doubt, apprehension, confusion, and fear were sucked out of me like a dry sponge laid out over a single drop of water. I was at peace… a peace that surpasses all understanding…  and I had this strong impression whispered into my soul louder and more effectively than an audible voice could have been, telling me that everything was under God's control and I was to trust Him and not worry. Simultaneously as this was happening, everyone else in that surgical room did not have the peace that I had just received. There was a helicopter being prepared to transport the baby to a neonatal unit at the hospital across the city if he was still alive. In seconds I watched the doctor literally carve a deep cut from Annie's navel straight down her belly and then with two hands he tore the incision wide open, grabbing some of her insides he pulled them out and piled them on her stomach above the incision point. Then his hands once again disappeared inside her reaching into the incision…  and he quickly pulled out a baby, our son! He simply passed him above his head to someone else as I heard the sweet cry of life echo and fill the room! The doctor, never looking away from Annie, began working to stop the massive bleeding. She had lost so much blood and went into some kind of toxic shock, her life hanging in the balance. There was just so much blood… and yet in the midst of it all… I was in a place of perfect peace, completely certain everything was going to be fine.
It was hours before Annie would know that we had a son and cradle him in her arms for the first time. The next day, a close friend of ours who was working on the maternity ward, told us how there was a meeting held to discuss our case. We learned from her that no one in that operating room held out much hope for the baby or Annie to make it. The rate of death at that time was estimated to be over 90%. The placenta had somehow detached and Jeremiah in effect should have drowned, or had some form of brain damage. And yet he was perfect in every way. To the doctors' amazement this tiny little baby was able to hold his own body temperature without an incubator just hours after birth. Annie, again to the doctors' amazement, miraculously did not need a transfusion and recovered quickly from the toxicity.  A few days later they both came home from the hospital, Jeremiah weighing just four and a half pounds truly embodying the meaning of his name "exalted by God!"
Over the years Jeremiah has continued to live out the meaning of his name. He has a deep faith and passion to invest in children. He leads the Awana program at our church and teaches high school English in a special program for students who are at risk of not graduating without individualized care and help. While in college he was heavily involved in our ministry on campus where he also met Katie Smith, a beautiful woman ideally matched for him. And just last month on November 20th Jeremiah and Katie entered into the sacred covenant of marriage!  I was honored to be the one to officiate the ceremony and lead them in their marriage vows. I will admit that a few times the audience must have imagined the words of Scotty on the Starship Enterprise, "he's breaking up, he's breaking up, captain!" It truly was a beautiful day and we could not be  happier or prouder!
On campus I often find myself sharing this story with students and even faculty when challenged about the existence of God or his involvement in our lives. While I have no way to adequately explain why God at times steps into our lives, intervening in the odds and revealing his presence in miraculous ways, and yet at other times chooses not to… One thing I am fully convinced of is this… God is real and actively seeks to reveal himself to us in a myriad of ways. And nowhere is this more evident than in the incarnational birth of Jesus Christ. In this season, where we celebrate the miracle birth of all miracle births, where God willingly and literally entered humanity to be Emanuel- "God with us"- to bring about peace, reconciliation and true salvation to all who will believe… consider also the wedding celebration of all wedding celebrations to come. Where our Heavenly Father will lead his Son and the beautiful bride called the Church into sacred vows that will end all brokenness, pain and suffering. A place where every tear will be wiped away, where everything will be made right, where death will truly lose its sting, where temptation will be disarmed and evil will be no more, Amen! This Christmas season may the whole of the Gospel be seen and pondered by all throughout the New Year!
Merry Christmas!
=== JOE ===
To join us in financial support just click on the donate tab and follow the instructions.
If you are currently supporting us, thank you. Perhaps you know someone or a business looking for an end of the year tax deduction? If you have been supporting our ministry with one-time gifts perhaps you could start the New Year with a commitment to donate regularly. If you have never contributed but have thought about it, please, now is the time. Any response of any amount really makes a difference.
Thanks again so much for enabling us to be incarnational on campus sharing Christ, training and overseeing area staff, expanding ministries to more campuses and helping the local church connect with this "generation in need!"
Recent Posts
Archives
Powerful Stories:
Each of our newsletters are carefully written to reflect life and ministry as well as insights into our family and special moments. Our goal is for you, through stories, to get a taste, touch, smell, feel, and vision for the ministry we have been called to. Just click on "blog and newsletters" from the menu bar. Feel free to download any of our newsletters and enjoy! If you would like to receive our newsletter either by post or email as they are produced send me an email by clicking on the "contact us" selection in the menu bar. We would love to hear from you!
Available:
Ministries should support each other. That's why Joe makes helping churches and groups get excited about sharing and defending Christ part of his ministry. Joe provides interesting and relevant ways to explain issues of faith to a world looking for more. If you are interested in having Joe come to your church or group, send him an email by clicking "contact us" in the menu bar.