About
Background— Joe and Annie became Christians in their twenties and were married in 1984. When Joe, as a lay minister, attended his first retreat with college students and heard students share their stories, hurts, struggles and secrets long hidden or suppressed, he knew in his heart he was seeing "a generation in need." This and other experiences led Joe to the conviction that he was being called to minister full time to this generation. Subsequently in 1999 Joe left his career of twenty years as an Engineering Program Manager and Consultant to serve full time with Missions Door. He is now an Area Director and has hands on ministry at Worcester State College and Nichols College in Central Massachusetts. Joe has a Masters degree in Business and Administration (MBA) and a Masters degree in Theological Studies (MATS) with a concentration in Biblical Languages from Bethel Seminary of the East. Joe and his wife Annie have four sons: Jeremiah, Joey, David, and Samuel.
Ministry— Joe has a passion for evangelism, leading Bible studies, and developing an apologetic to reach the next generation. Serving local churches he often speaks at youth groups and retreats, and leads seminars on Evangelism and creative ways to find common ground with other world views. In his home church, he has held a position of leadership, worked with and trained others in evangelism, and served on the drama team. He has ministered at numerous coffeehouses in the New England area, combining music with the message of the Gospel, to reach the lost. —Annie enjoys sharing the love of Jesus through the ministry of hospitality.  She cares for many students by welcoming them into her home and family circle and sharing wonderful home cooked meals with them.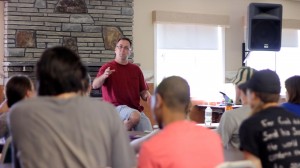 Campus Ambassadors (CA)— is Missions Door's  church-related ministry serving on secular campuses across the country. In college, students seek answers to major questions, make vocational choices, and establish a philosophy for living. CA presents the uniqueness of Jesus Christ and demonstrates his relevance in today's world, emphasizing: Lordship Evangelism, Church Relationship, Biblical Righteousness, and Leadership Development.
Campus Ambassadors National website
Other Important ministry links
Find new friends, roommates or ministries on a college campus near you: Liveabove.com
Joni and Friends – New England Area